Bajaj Allianz General Insurance Company Limited is a joint venture between Bajaj Finserv Limited (recently demerged from Bajaj Auto Limited) and Allianz SE. Both enjoy a reputation of expertise, stability and strength.
Bajaj Allianz received the Insurance Regulatory and Development Authority (IRDA) certificate of Registration on 2nd May, 2001 to conduct various businesses (including Health Insurance business) in India. The Company has an authorized and paid up capital of Rs 110 crores. Bajaj Finserv Limited holds 74% and the remaining 26% is held by Allianz, SE.
As on 31st March 2019, Bajaj Allianz continues to be one of the most financially robust insurers in the industry by maintaining its growth as well as profitability. The company has made a net profit of Rs. 780 crore. The company reported a revenue of Rs. 11,097 crore, which has grown by 17% compared to the last fiscal year.
For more details on a summary of our financials, please click here.
For our Annual Reports, Please click here.
---
Our Achievements
For the 13thconsecutive year, Bajaj Allianz General Insurance has received iAAA rating from ICRA, indicating the highest claims paying ability and a fundamentally strong position in the industry. The first accreditation was received in 2005-06 and the company has maintained this rating since then. The organization's Operational Risk Management process is ISO 9001:2015 certified, which signifies our quality objective to proactively manage risks and to ultimately deliver & exceed customer expectations. The Company has embraced digitalization as a primary enabler and has been working continuously on automation and digitization of its service offerings. It offers real time solutions to its customers and partner via mobile applications and dedicated portals. The industry first initiatives by the company like cashless claim settlements, in-house health management team (HAT) and image based policy as well as claim processing, digital offices and mobile applications such as Eezee Tab and Insurance Wallet have set a benchmark in the industry.
The organization received the prominent Digital Insurer Award twice at the prestigious Asia Insurance Industry Awards 2017 & 2018. The company was recognized as The Iconic Brand of India 2018 by The Economic Times and received the prestigious National Award for Excellence in Cost Management from premier cost and management accounting body, Institute of Cost Accountants of India (ICAI). The company was also honoured as India's Leading Private General Insurance Company by Dun & Bradstreet. It also won the prestigious Money Today Awards for the Best Motor Insurance Provider of the Year.
Bajaj Allianz General Insurance has also been recognized as the AON Best Employers in India 2018 for its employee centric work culture and is listed among the Top 15 BFSI Great Workplaces to Work in India by the esteemed Great Place to Work Institute.
Click here for more information on the awards won by Bajaj Allianz GIC.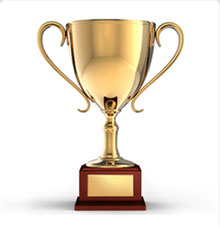 Awards
---