Bajaj Allianz General Insurance Company Limited is a joint venture between Bajaj Finserv Limited (recently demerged from Bajaj Auto Limited) and Allianz SE. Both enjoy a reputation of expertise, stability and strength.
Bajaj Allianz received the Insurance Regulatory and Development Authority (IRDA) certificate of Registration on 2nd May, 2001 to conduct various businesses (including Health Insurance business) in India. The Company has an authorized and paid up capital of Rs 110 crores. Bajaj Finserv Limited holds 74% and the remaining 26% is held by Allianz, SE.
As on 31st March 2018, Bajaj Allianz continues to be one of the most financially robust insurers in the industry by maintaining its growth as well as profitability. The company has made a profit before tax of Rs.1,353 crore and emerged as the most profitable insurer recording a profit after tax of Rs. 921 crore. The company reported a GWP of Rs. 9,487 crore, which has grown by 23.41% compared to the last fiscal year.
For more details on a summary of our financials, please click here.
For our Annual Reports, Please click here.
---
Our Achievements
For the 11thconsecutive year, Bajaj Allianz General Insurance has received iAAA rating from ICRA, indicating the highest claims paying ability and a fundamentally strong position in the industry. The first accreditation was received in 2005-06 and the company has maintained this rating since then. The Company has embraced digitalization as a primary enabler and has been working continuously on automation and digitization of its service offerings. It offers real time solutions to its customers and partner via mobile applications and dedicated portals. The industry first initiatives by the company like cashless claim settlements, in-house health management team (HAT) and image based policy as well as claim processing, digital offices and mobile applications such as Eezee Tab and Insurance Wallet have set a benchmark in the industry. It is the first insurance company in the country to lay the foundation for usage based insurance through its telematics offering, Drive Smart.
The company was recently awarded the Technological Initiative Award for first-ever, Telematics based motor insurance service Drive Smart and the Digital Insurer Award at the prestigious 21st Asia Insurance Industry Awards 2017. Bajaj Allianz GIC was also conferred with Private Sector General Insurance Company of the Year at Fintelekt Insurance Awards 2017 and is the only Asian Insurance company to be honored by prestigious Insurance Asia Awards 2016. Company has also received accolades for Best Non-Life Insurance provider and Best Motor Insurance provider at very prominent Outlook Money Awards 2016. The brand has been recognized as one of the most trusted general insurance brand in The Brand Trust Report India Study 2016 covering 20,000 brands across 16 cities and The Economic Times Best Brands.
Bajaj Allianz General Insurance was recognised as the Aon Best Employer 2016 highlighting the company's excellence in promoting a transparent culture and healthy work environment along with designing employee friendly policies. The award was an outcome of the Aon Best Employers 2016 Study which was conducted in partnership with Businessworld and Bloomberg TV
Click here for more information on the awards won by Bajaj Allianz GIC.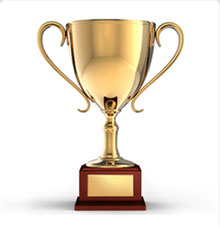 Awards
---