Bajaj Allianz Health Insurance Plans
A good health insurance policy should do three things:
Ensure that you and your family get the best medical care possible when you need it.
Cover you financially against the costs of treatment and hospitalization.
Give you complete peace of mind.
Bajaj Allianz's medical insurance plans has everything mentioned above. Our health insurance policies ensure that you and your loved ones get access to immediate care at the best hospitals without wiping out your hard-earned savings on medical expenses.
Bajaj Allianz offers a wide range of affordable policies to cater to the diverse needs of customers. With cashless treatment across a huge network of hospitals and hassle-free claims settlement, our health insurance plans are designed to make life simpler for you during stressfull medical emergency situation.
Here's what sets us apart:
We have the highest claim settlement ratio among health insurance companies in India.
We settle cashless claims within 1 hour - the fastest turnaround time among health insurance providers in India.
---
Types of Health Insurance Policies – Catering to Diverse Needs
---
Why buy your Health Insurance Policy from Bajaj Allianz?
As one of the best health insurance companies in India, we understand that every individual has unique needs and expectations from a medical insurance policy. That's why our products are packed with a wide range of features and benefits.
Peace of mind : Medical emergencies often come without warning. And end up taking a toll on your financial health. With a good health insurance policy, you can be secure in the knowledge that you and your family are financially protected against unforeseen health care expenses.
Get the best medical care : The only thing you should think about in a medical emergency is getting the best care possible, not how much it is going to cost you. Our health insurance plans enable you to get treatment from the best hospitals and doctors.
Cashless settlement : Bajaj Allianz is empanelled with a large network of hospitals across the country. You can get cashless treatment at any of them - just inform our team and we will take care of everything.


Hassle-free claims : Our claim processes are designed to be as hassle-free as possible for you. You can benefit from the following:

24x7 on-call support.
An in-house Health Administration Team to ensure a seamless and quick claims settlement process.
One of the fastest turnaround times in the industry - under one hour for cashless settlements.
One of the highest claims settlement ratios among health insurance providers in India.
Health CDC benefit : Quick claim settlement through app.*

Comprehensive coverage : Choose from a wide range of affordable health insurance policies to cover you and your family against medical expenses, critical illnesses and accidents. Add top-up plans for extra coverage.
Affordable plans : Enjoy maximum coverage at a price that is easy on your pocket.
Preventive care : Get free medical check-ups once every three claim-free years.*
Ease of transaction : Buy or renew your policy in just a few clicks online.
*Health CDC (Claim by Direct Click) is a feature in the Bajaj Allianz Insurance Wallet App which enables you to raise claim requests up to Rs. 20000 through the app. This is the easiest way to make claim requests. You can upload all the required documents in the app and get regular status updates on your claim. The entire process is paperless and saves both time and money.
---
How to Save Tax with a Health Insurance policy?
A health insurance plan is designed to provide you with financial support when you are faced with medical and hospitalization expenses. But it also gives you the added benefit of great tax savings.
You can claim a tax exemption of upto Rs 1,00,000 on a Bajaj Allianz medical insurance policy under Section 80D of the income tax act. Here's how:
Get a deduction of upto Rs 25,000 on premiums paid towards health insurance plans for yourself, spouse, children and parents. You must be under 60 years of age.
Claim a tax exemption of upto Rs 50,000 on premiums paid towards a medical insurance policy for parents who are senior citizens (above the age of 60).
If you are under 60 and your parents are above 60, you can avail both the exemptions (a total of upto Rs 75,000).
If you are above 60, you can claim an exemption of upto Rs 1,00,000 on premiums paid towards yourself, spouse, children as well as for your parents.
---
Important concepts you should know about your Health Insurance plan
Sum Insured : This is the maximum amount of money you can claim against medical expenses in one policy year. Let's assume you buy a health insurance policy for a sum insured of Rs 5 lakh. Now suppose you make a claim of Rs 2 lakh during the year to cover some healthcare expense. What happens to the remaining Rs 3 lakh? You remain covered for that amount for the rest of the year.
Premium : When you buy a medical insurance policy, you must pay a certain amount periodically (monthly, quarterly, half-yearly or annually) to get the cover you need. This is called the premium, and the amount you must pay depends on many factors, including total sum insured, age, medical condition and physical fitness.
Pre- and Post-Hospitalization Expenses : Medical treatment often begins before hospitalization and continues after discharge. Health insurance policies cover not only hospitalization costs but also expenses you may incur before and after the hospitalization on consultations, medicines, investigations etc. Check the duration of cover before you buy health insurance.
Co-Payment : Co-payment or Co-pay is a fixed percentage of the claim that an individual must pay towards his medical expenses while the insurance company pays the rest. For e.g. if your medical insurance plan has a 10% Co-Pay clause and your claim amount is Rs 1,00,000, you must pay Rs 10,000, while the insurer will pay Rs.90,000.
Deductible: This is a fixed amount an individual must bear from his own pocket. The insurance company's liability starts above this amount.
Ambulance Charges : This is an additional benefit offered by most health insurance policies. It compensates you for the charges that you incur for using an ambulance service in an emergency. The amount of cover varies across policies.
Day-Care Procedures : Many medical procedures do not require 24-hour hospitalization. These are called day-care procedures. Many health insurance policies nowadays cover these procedures in addition to longer hospitalization.
Network Hospitals : Most insurance companies empanel or tie-up with hospitals across the country to provide better medical services to their customers during their time of need. These hospitals are referred to as network hospitals. You can benefit from the cashless facility at these hospitals - just inform the insurance company and it will co-ordinate directly with authorized hospital.
In-House Claims Team vs Third Party Assistance (TPA) : An insurance company may use its own staff to process and settle claims (an in-house team) or it may outsource the claims process to a third party (TPA). An in-house team enables a health insurer to deal with claims directly and provide better service to customers.
Hospital Cash : An add-on to your health insurance policy that gives you a daily cash allowance to cope with the ancillary expencess related to hospitalization.
Health Insurance Quote : A quote is an estimate of the cost or premium you will have to pay for the policy you need. An insurer will ask you a set of questions to determine your requirement before giving you a quote.
---
Other Health Insurance Plans
---
Awards and Recognitions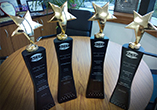 Multiple wins at the ACEF HR Summit & Awards for Excellence in HR
Bajaj Allianz General Insurance bagged three awards at the ACEF HR Summit & Awards for Excellence in HR 2018. At the premier awards, we won Gold for Most Effective Recruitment Strategy and two Bronzes for Best Learning & Development Strategy and Best Employee Engagement Strategy. The ceremony also honoured Mr. Vikramjeet Singh, our Chief Human Resources Officer, with Silver for Leader of the Year award. The ACEF Awards recognize and celebrate the best practices in the field of Human Resources amongst various corporations in India.
---
Most Trusted Global Brand Award by Herald Global & BARC Asia
Bajaj Allianz General Insurance has been awarded The Most Trusted Global Brand 2018 by Herald Global & BARC Asia. This award acknowledges the leading brand in its domain on the basis of its superlative performance, the heightened brand recall, loyalty amongst customer base and the values of trust and efficiency that the brand exudes.
---